The Communications Committee is responsible for the creation, maintenance, and content for the Consortium's media channels, including the websites, social media, and advertising.
---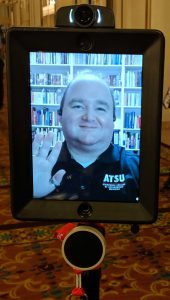 G. Franklin, MBA

Chairperson, Communications Committee for the International Consortium on Manual Therapies

Data Manager of the A.T. Still Research Institute

Data Manager of the Practice-Based Research Network DO-Touch.NET
Read more about me…
Pronouns: they/them
E-mail: gfranklin@atsu.edu

I have been the Data Manager for the A.T. Still Research Institute since 2015. I am an applied data scientist evaluating methods for delivering scientific content to the general public and creating partnerships for diverse viewpoints in the scientific community to ensure equitable access to data. I have an MBA, a Bachelor of Science in Information Technology from Western Governors University, and an Associate in Emergency Management from Frederick Community College. One of the highlights of my career was the creation of OPComp, the judging platform used by the American Academy of Osteopathy, A.T. Still Research Institute, and A.T. Still University for their poster sessions. I drive a robot to work.